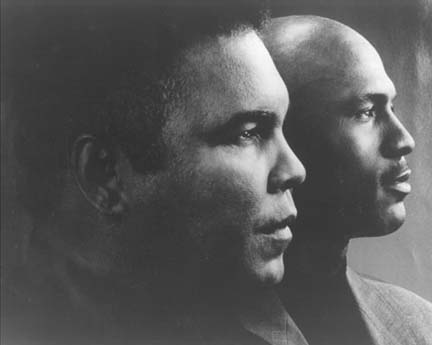 Right now, as I write the loose-leaf version of the internet blog post you are now reading, ESPN Classic is showing the famous "Rumble in the Jungle" match between Muhammad Ali and George Foreman, circa 1974 in Zaire. And I've already set a reminder on my tube for five o'clock this evening, as they will be broadcasting Mike Jordan's unforgettable "Sick Game," Game 5 of the '97 Finals between Chicago and Utah in Salt Lake City. Two of the three greatest athletes ever in two of the signature performances of their careers, for our viewing pleasures. Those three hours alone make for a great day of television.
And I don't know why I'm just noticing, because they replay this stuff over and over again, and why I've never read or heard anyone else talk about this, but these telecasts demonstrate similarities in the way these two legends managed to prolong their greatness and remain on top despite diminishing physical traits. Completely different sports, but the same mentality. Most athletes accept their mortality and take a back seat to the younger generation when the time comes; not MJ or Ali. Not surprisingly considering the level of success they achieved, Jordan and Ali refused to just bow out. They were too stubborn for that.
Ali was 32 at the time of the Foreman bout, and past his prime in terms of speed, quickness, lateral movement and all of the other things that made him such a unique heavyweight. He didn't fight for three-and-a-half years after having his license stripped for refusing to represent the US in the Vietnam War, and the time off had a negative effect on his legs. Jordan was 34, in his second full season back after a seventeen retirement, and while he may have been fresh at the very beginning of the comeback, by this time fatigue had caught up to him as well. Neither one of them was the same man he once was, athletically speaking, but their smarts and will to be the best never declined. They only got expanded. And they had to, in order to remain effective.
In the Foreman match, Ali fought and won with his head and not much else. Foreman was younger, bigger, stronger, and considered unbeatable. He became heavyweight champ after stopping Joe Frazier with six knockdowns in two rounds. He was 40-0, with 37 wins coming by way of knockout, and a 24 straight knockout streak. No opponent had even lasted more than two rounds against him in three years. Even Howard Cossell, Ali's loyal friend and supporter, looked into the camera and gave Muhammad what amounted to a eulogy during a pre-fight show. No one gave him a chance.
But Ali came in with a plan. He would lie on the ropes for most of the night (the "Rope-A-Dope"), taking Big George's hardest punches but also baiting him into wearing himself out. (And boy, did George fall for it. I mean, what an idiot. He just kept flailing away. He's obviously smart, or else he wouldn't have been able to make all the money he's made from the grills and what not, but back then, on that night, he fought like a complete and total moron. Give credit to Ali for knowing his opponent.) And all the while, he was in his ear - "Is that all you got George?" - and in his head, wearing him down mentally. And waiting for the perfect time to strike.
And then it happened. Swiftly, unexpectedly, and (to the untrained eye) out of nowhere, Ali unloaded a five-punch combination that sent Foreman to the canvas for the fight. He had regained his title. It was beautiful and brilliant.
-------------------------------------------------------------------------------------------------------------------------------------------------------------------------------------------
The '96-'98 MJ will always be my favorite version of His Airness, and "The Sick Game" shows him in his purest form. Drained and damn near out on his feet due to the old "flu-like symptoms," and already having lost a good portion of his natural abilities (hops, hangtime, explosiveness, etc.), to age, he was stripped down to his skills and saavy. His core. And that was more than enough. That was all he needed.
To make up for what he no longer had, MJ transformed into what Mark Heisler once described as a "Larry Bird-level shotmaker," improving his three-point shooting and converting himself into perhaps the most accurate mid-range shooter in the game's history. He had perfected his patented fadeaway, unblockable and virtually automatic, one of the deadliest signature shots in NBA history; put it below Kareem's skyhook but ahead of Gervin's finger roll, Duncan's bank shot and anything else you can thing of. Also, the muscle he had added over the years helped make him the premiere non-big man post player in the league. He could still get off his shot whenever he wanted, and he could still get whatever shot he wanted. Pull-ups. Turnarounds off the mid and low block. Catch-and-shoots. Off of contact. Dribble-drive stop-and-fadeaway. Going left. Going right. Straight away. Falling out of bounds along the baseline. Stutter step, head-and-shoulder fake, look you dead in the eye and drain it in your face...he had it all and used it all. Plus, he was as fundamentally sound as it got, his footwork exemplary, and he could still get to the hoop and finish as well as anybody, albeit less frequently and not as spectacularly.
He would pick and choose his spots on defense, conserving his energy for the other end but still being sound enough to remain a first-team all-league defender. Not many guys are intelligent enough to change their games as they get older in order to maximize their potential and maintain their dominance. Jordan was one of the clever ones.
The result was a player whom many deemed to be better than ever before. He was certainly never more polished. And he shined on that night two years ago, showing the same champion's heart in beating the Jazz that Ali had shown more than thirty years ago in toppling Foreman.
Of course, heart and courage only get you so far. Ali and Jordan would both continue to compete well after these nights, and they would both hold on too long. In the end, all the know-how in the world can't overcome Father Time. Ali would fight until the age of 39, and it took losing to Trevor Berbick for him to realize it was over. Jordan would make another comeback at 38, and after failing to even make the playoffs with the Wizards in two seasons, he decided to call it a career for the final time.
Another similarity, I guess.