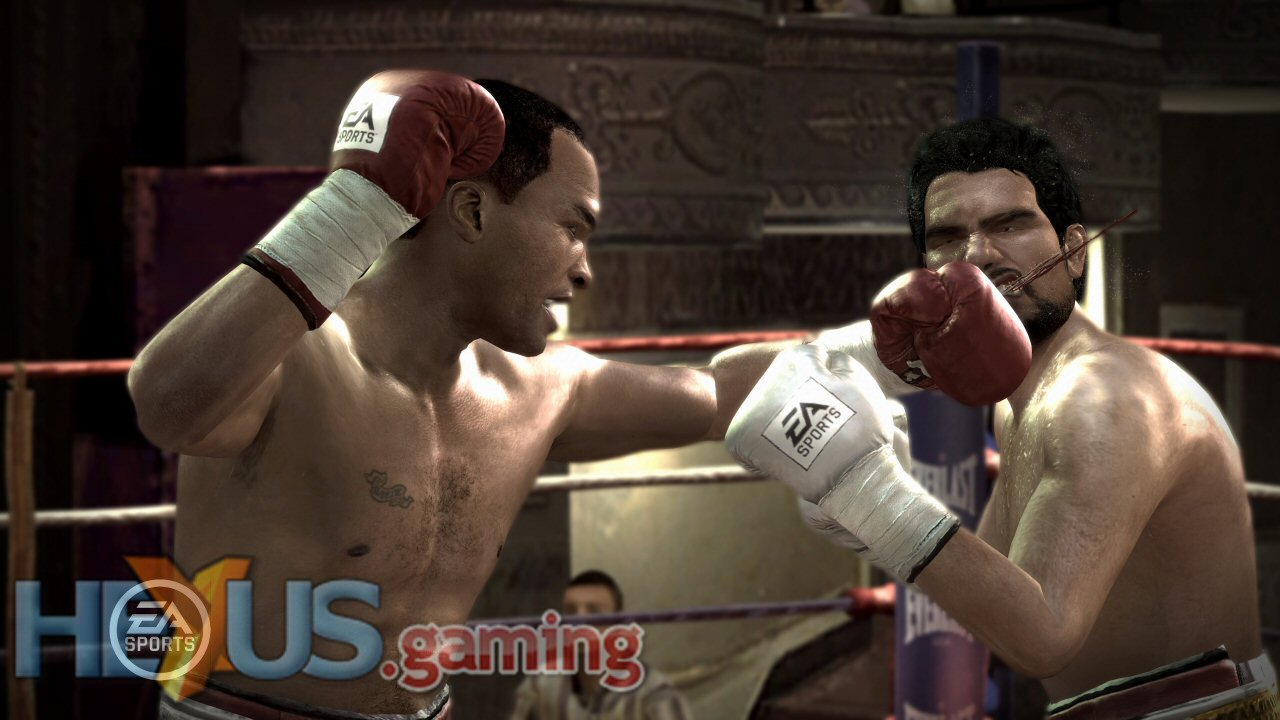 EA Sports, taking boxing games to a whole new level.
I'm late on this. Very late. I know. This came out in February of '06. Read it anyway.
I first became infatuated with
Fight Night Round 3
, the latest in EA Sports' video game boxing franchise, right before the Mayweather-De La Hoya match, while reading a
scouting report on ESPN.com.
They had a little video on there simulating the fight and still shots that complemented the report. I had purchased
Knockout Kings 2002
(which can be considered the great-great grandfather of
Round 3
) years back, with Ali on the cover, and played it a lot when I first got it. It was good. But it didn't come close to matching the realism I was witnessing on that computer screen that day.
After finally copping it yesterday for the PS2 from Best Buy (only $19.99!), I have to say: this one of the most impressive video games I've ever played, and I've played many. Pound-for-pound, this comes closer to matching the Madden and NBA 2K series than any sports game I've ever played. Obviously, boxing is pretty much irrelevant now, not nearly as important or popular as the NBA, which isn't nearly as important or popular as the NFL. So
Round 3
isn't gonna get the same the same kind of publicity or sales as NBA 2K-whatever (consistently the best basketball titles out there) or
Madden
(the undisputed heavyweight champ of sports games).
But in terms of pure quality? It's right up there.
The actual matches are the most impressive. The two fighters enter the ring to some of the best hip-hop you'll ever hear on a video on a video game soundtrack (although I have to admit, watching guys like Ray Robinson and Jake LaMotta come out to a track with Akon on the hook is just ridiculous), trainer at their side, acknowledging the crowd, then stepping through the ropes and doing a little shadowboxing for good measure.
Once the bell rings, the action that takes place in the ring is nothing short of revolutionary. Couldn't get any better. Incredible.
Knockout Kings 2002
is like
Rocky
; me and my cousin used to bludgeon the hell out of each other on that thing like Balboa and Drago. Whether you're playing with a friend or against CPU, the best path to victory is just jabbing the flick out of the other guy until he finally goes down. Bobbin' and weavin' don't work. In real life, no one could survive the kind of beatings that are given out in those movies or in that game; it would be too much punishment. I mean, don't get me wrong: it's fun. It just ain't practical.
This game, on the other hand, is more like
Ali
, which featured the most lifelike fight scenes ever. In FNR3, you can't just rely on one punch; you must have variety. Power shots, combinations to the head and body, hooks with each hand, etc. Mix it up.
And defense is of the utmost importance; you gotta be able to stick and move in there. Hit, duck. Hit, lean to the left. Hit, lean to the right. Hit, lean back. Hit, get the hell out the way. Shield your face and ribs. Roll them shoulders. Protecting yourself is the name of the game.
On top of that, it looks and sounds awesome, and catches all of the little things. They've completely captured the fighter's physical appearances, fighting styles, and in-ring mannerisms. Ali has blistering hand speed and moves better than everyone else. Roberto Duran is a brawler. Sugar has the best all-around skills. Furthermore, Joe Frazier fights from a very low position, always crouching. Roy Jones has that unorthodox stance, left hand near the waist, right arm bent at a 90-degree angle, ready to strike at a moment's notice. And B-Hop keeps that right hand covering the right side of his face. Plus, they're covered in sweat, and you can see the anguish on their faces when they take one in the abdomen and hear them grunting when they swing big and miss.
Between rounds, the trainer gives his guy advice, criticism, praise, the whole deal. You even have the option of playing cornerman and tending to the cuts and bruises.
But the best part so far (I haven't tried "Career Mode" yet, so I can't give the game a final grade) is the "ESPN Classic" feature, which allows you to re-create some of the most famous matches in boxing history, complete with a breakdown of each competitor's traits and strengths. It's excellent.
The only negative I see so far (other than Ali entering the squared circle with Dipset blaring in the background) is the "Create-a-Player" mode, which is very mediocre and frustrating. Other than that, I have zero complaints.
Definitely money well spent.