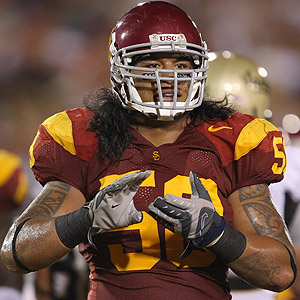 The result was not surprising. Before the game, I actually thought Los Angeles' beloved USC Trojans Football Team might be in trouble, although for reasons more psychological than physical. Bill Simmons often writes in his columns about sports teams playing the world-renowned "Nobody believed in us" card, regardless of whether anyone really did believe in them or not, and using it as a motivational tool to prove the world wrong. Well, nobody believed in Ohio State's prospects of hanging with the Trojans Saturday night at the Coliseum, and rightfully so: There was no reasonable explanation, at least pertaining to football, as to why the Buckeyes' would be able to stay with USC. Big 10 teams struggle versus teams with speed (i.e. teams from the SEC and Pac-10 - don't ask me why teams from those two conferences are able to recruit speed, and teams from the Big 10 are not; the answer escapes me), and despite their dominance otherwise, OSU is not an exception. They lost the last two BCS title games to LSU and Florida, by a combined score of 79 to 38. On top of that, they were missing their best offensive player, preseason Heisman hopeful Beanie Wells.
But they were still a top-5 team, and a red flag should always be raised whenever a relatively worthy team becomes too much of an underdog in a big game. Not necessarily in terms of a point spread, but in terms of the number of people who are picking you to win the game. Ohio State is a very good football team, and I figured they might take the lack of respect as a slight, and summon up the proper emotional savagery and pride to negate enough of the gap in talent and athleticism to make the game much more competitive than people expected. And maybe, just maybe, pull off the upset no one saw coming.
Instead, they just their asses kicked. I couldn't have been further off. Final Score: Trojans 35, Buckeyes 3.
USC was simply too fast and wily with possession of the ball and too quick without it for Ohio State, and ironically it was the Trojans who played with the ferocity of the disrespected underdog. The Best Defense in College Football allowed only 207 total yards, forced three turnovers, and garnered five sacks. Countless times Buckeye plays were completely destroyed by a gang of swarming thugs (and I mean "thugs" in the most complimentary way possible) who converged on the football like a pride of hungry lions trying to bring down an elephant in an African safari. On the gridiron, the ballcarrier is prey to the Trojan defense, something that it must consume to ensure it's survival. It's inspiring to watch.
Against teams with top-flight athletes, however, the Buckeyes are not. Before long, Saturday night's game succumbed to its predictability, and by the end, it was embarrassing. And so for the third time in their last four losses, Ohio State has been completely outclassed on a national stage. What are we to make of them? Obviously, Jim Tressel is a very good football coach, and he runs a fine football program. He won a national title in 2002 and his team dominates the storied Big 10 conference. But are they a true powerhouse? It's one thing to come up short against the Louisiana State's and Southern California's of the world; it's another thing altogether to be incapable of making the game competitive. Chris Berman and Tom Jackson like to say "One time is an accident, twice is a trend, three times is evidence." Is this most recent loss enough evidence to suggest that Tressel's program is O-VER-RAT-ED? I think so.
USC, however, is beyond reproach in that regard. They play in either the best or second best conference in America, there are no creampuffs on their schedule, and even in the rare event that they lose, they barely lose. Since 2002, also known as Year II of the Pete Carroll Era, the Trojans are 70-8; they have not lost any of those games by more than seven points (and in the entire Carroll era, they have lost only one game by more than a touchdown). Only once in those eight defeats did they lose to a team that was clearly better than them (last year on the road against Oregon). During this span they have produced three Heisman Trophy winners and won three Rose Bowls. They won consecutive national championships in 2003 and 2004, and in 2005 they came just 19 seconds away from becoming the first team in college football history to three-peat. They are a powerhouse, a machine, a dynasty. And this is the best team they've had in three years.
The defense may be as good as it's been under Carroll, but the key is the offense. The last two seasons, the offense was efficient but never spectacular. Now, it is dynamic again. John David Booty was a very good quarterback; Mark Sanchez looks like a superstar. He may not be the pure passer Matt Leinart was, but he is damned good throwing from the pocket, and very mobile. Tailbacks Joe McKnight (who had 105 yards on only twelve carries against the Buckeyes and is so much like Reggie Bush it's disturbing), Stafon Johnson (a future 1,000 yard NFL rusher), and C.J. Gable (singled out as the most complete back of the bunch by Kirk Herbstreit during the telecast) give USC it's best running attack since Bush and Lendale White ran between the tackles at the Coliseum. The receivers aren't great, but they're better than they were last year, thanks in large part to the addition of Arkansas transfer Damian Williams, who caught two touchdowns on Saturday. Helluva football team.
And in praising these Trojans, I think the most damning thing I can say about the Buckeyes is that they were not a true barometer for USC to measure themselves by. They were a walkover, everyone predicted they would be, and it didn't galvanize them at all. Sure, they didn't have Beanie, but Beanie wouldn't have made that much of a difference. USC is phenomenal; Ohio State is beginning to look increasingly like an illusion, in more ways than one.