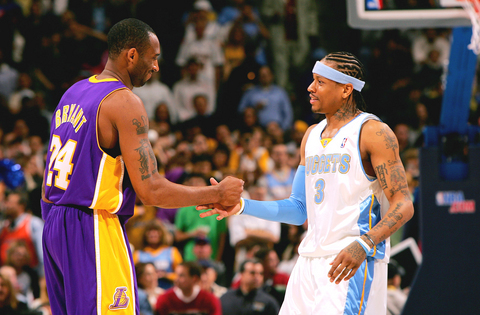 So I'm sitting in the kichen at the ol' PS3 (raising my created player version of Derrick Rose through "Association" mode on NBA 2K8) when the subject of the now-forthcoming Lakers-Nuggets first-round series comes up. The Mavericks just got finished dispatching of the Hornets on ESPN, and in the process locked up the No. 7 seed in the West and rendered the outcome of Denver's regular season finale with Memphis (in progress) moot. The Nuggets will be your No. 8 seed, and their prize will be Los Laguneros, who clinched the No. 1 seed by pounding Sacto at the Staples Center last night.
Anyways, my dad starts going over all of the big names the Nuggets have on their roster. A.I. 'Melo. Camby. K-Mart. They've been places. They've done things. On top of that, in George Karl they have a head coach with playoff experience and success (made the Finals in '96 with the Sonics, almost made it again in '01 with Milwaukee) and a couple scorers off the bench (Kleiza and Smith).
But I don't care who they have.
Denver is 49-33 in the most competitive conference in NBA history. They have a good basketball team, and they are an offensive juggernaut (110.5 points a game, second behind only G-State). But at the end of the day, to paraphrase Bill Parcells, you are what your seed says you are. The Nuggets are an 8 seed. They finished seven games behind the Lakers in the standings. And while G-State proved last year that the game really is all about matchups, Denver doesn't matchup well with these Lakers. L.A. is too structured and the Nuggs have nobody who has a snowball's chance in hell of even
containing
Kobe. Camby is a great help defender, but I don't see him offering that much resistance against Gasol one-on-one. Five years ago, Kenyon Martin might have given Lamar Odom hell (remember what he did to Antoine Walker?), but he's not the defender he once was. You'd rather have Derrick Fisher than Anthony Carter, and the Lakers have the best bench in the league (Farmar, Vujacic, Walton, Turiaf) and the best shooter in the series.
Furthermore, they can throw Kobe on A.I. in crunch time and he can take him out of the game as a scorer. Maybe he can't stay with him for a whole game, but he's always had success defending him for extended periods, like the fourth quarter of the game in Denver this year (Iverson had 49 on 23 shots thru three quarters but only 2 on 4 attempts with Kobe hounding him in the fourth), and a game in Philly in 2000, when he held him scorless in the second half.
But don't take my word for it. The Lakers went 3-0 versus Denver this season, winning by an average of 16 points. The proof is in the pudding.
Bynum or no Bynum (and as time goes on I think it's becoming pretty clear that he's probably not going to be back this season). Lakers in 6.